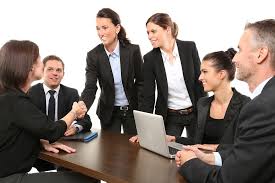 If you are a new joiner, recent graduate, shifting into a new team or just about anyone experiencing any change in your team culture, the list below will not only ease you into acclimatizing yourself into your new environment but will become more of a value and a habit which will have everyone around you respect you and appreciate you. The bottomline is to always be authentic, genuine, positive and hardworking. It is your prerogative to find your place within the new team, and be known for what you are good at. Don't pressurize yourself to "fit in" it is a common mistake most make, just simply keep your eyes and ears open, and gauge the pulse of the team and be yourself, and I promise the rest falls into place.
1- The meet and greet : You are new here, regardless your title, designation, salary, education background, role etc – the bottom line is that you are new here. This is not your turf…yet. So when you meet anyone / get introduced to anyone in the new firm, ensure you make eye contact, smile and have a firm handshake. Be genuinely interested in remembering the person. People appreciate that. You come across as polite and genuine. If someone makes eye contact with you in the passing, make eye contact and smile back. If they ask you if you're new, nod and introduce yourself. No-one wants new joiners to come across as having ' too much attitude'.
2- Role understanding and fitment in the team : Find out who plays what role in your team and what could be your working relationship with them. The HR is supposed to cover this in your induction plan, however making a proactive effort to this could help your cause. This initiation can help you create work – bonds with your peers. The team needs to depend on each other, so find out where your expertise can help your team mates and vica-versa.