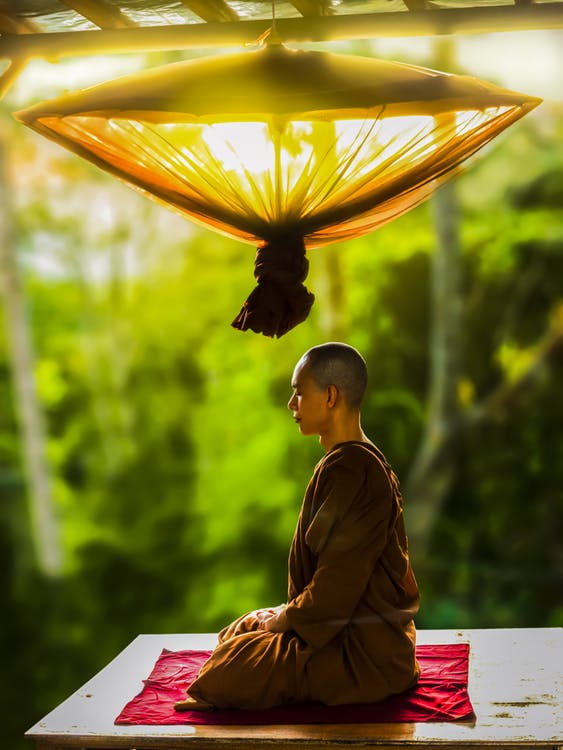 This is a state which you can only experience for yourself after you start meditation. It is a place between sleeping and being awake. It is a state in which your sub-conscience is active. It is where you discover your inner voice. It is where you face and accept your limitations, yet get answers how to overcome them. I truly believe this is a magical place. You can reach this state of tranquility without the help of drugs.
How do you get to this place? You get there by breathing. A simple inhalation and exhalation encompasses the magic and beauty of all that life has to offer.
Your breath has the ability to control your life. You were born when you came out of your mother's womb and you cried. That was when you breathed for the first time. When you die you take your last breath and your soul leaves your body. Everything that happens between these two breaths – is your life.
I urge you to find a class, guru, app, video, coach – just about anyone or anything that can guide you to the process of exploring the charms of meditation. It worked like a boon for me and without sounding loonie, i assure you that if you can indulge in meditating for 3 weeks straight, until it becomes a habit for you, it will truly change your life.
1-Stress and depression– Meditation not only helps with feeling less stressed, it's also linked with decreased levels of the stress hormone cortisol. Every sinking feeling in you – stress, anxiety, fear, depression – it's all coming to surface because of an unresolved issue. Meditation will work like a distiller that will clean your slate and release you of all the pain and negativity that your soul might get attached to.
2-Clarity of thought and judgement – Meditation – counting your breath or doing the basic guided meditation on aligning your chakras can make you reach a state of equanimity. This is where you all the clutter and all the noises stop, and you can allow your better sense to prevail.
3-Physical aches and pains – Mindfulness meditation has been shown in clinical trials to reduce chronic pain by 57 percent. Accomplished meditators can reduce it by over 90 percent. Meditation is a tool used to not only develop your relationship with your inner voice, instinct and sub-conscience but it also helps make your mind more powerful and strong. Your threshold capacity automatically increases.
4-Peaceful vibrations – Listen to meditation hymns, participate in guided meditations – allow yourself to get used to meditating for at least 21 days and I promise you, you will feel like a whole new person. Apart from being generally calm and composed, you will exude positive vibrations. The smile on your face will truly reflect your inner peace, gratification and happiness.
5-Mind matters – If your desktop is wallpapered with sticky note reminders and you often find your mind jumping from thought to thought, you may want to turn to meditation. It's been shown to not only improve memory but to help cut back on distracting thoughts. While the initial process can be challenging to get acclimatized to, ensure that you force yourself to cut off and not be distracted. You need to disconnection from external distractions to be able to truly be one with yourself. Your mind, body, soul will automatically work as a strong team giving you directions to be healthy and wise.
6-Develop a relationship with your instinct – As you spend time meditating, you realize that all your needs, passions and desires become more visible. Everything you love comes to the fore-front. This is your sub-conscience giving you signs. You eventually begin to cancel the loud noises in your head and there is one particular voice that you allow to take over – this is called the "voice of the gut" or the instinct. Listen to it, it will never leave you astray. It is righteous and innocent. It comes from a place of goodness and positivity – it will always make you do the 'right' thing.
7-Feelings that come to the surface– When you meditate dont be overwhelmed or scared by the thoughts that come into your head. Some of them might be dark and unpleasant. It would feel like someone is showing you the mirror. And guess what? Seeing the mirror is quintessential. Dont allow yourself to get lost in a rut or stop identifying with yourself. The last thing you want in life is to wake up and wonder "who am i?". Introspect and identify voids and reasons of voids. Whatever you pushed under the rug of yesterday has to creep up on you. Meditation helps you face it, deal with it, fix it and then never be afraid of it again.