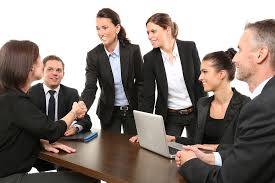 3- Love thy neighbor : It is important to hit it off particularly well with the people in your vicinity. Ask them about themselves, getting a little personal in the questioning like "are you married / what school did you study in / where do you live/ if you don't mind me asking how old are you" can be OK provided you are genuine with your questioning and keen to share the same information. Your neighbors are invariably the people you can bug with small questions like " what is the name of the person who just passed by/ what does he do here/ why is that manager leaving the firm" etc. Sometimes these guys can tell you about the soft skills of a manager or senior, and that information can help. "Manager X doesn't indulge in small talk / Manager Y doesn't speak to anyone when she enters the office, don't think she's a morning person / Manager Z is a very approachable manager you can enter his cabin whenever you need any help." More often than not they become your buddies 🙂
4- Reporting relationships : Try to get to know your reporting manager and the team that reports into you. If you are not a people's person, try making an effort to indulge in small talk at the least. Rapport building is important because your manager plans your career and you plan the career of your team. 'Good morning/ How is your day going/ What did you do this weekend' are the questions that don't hurt anyone and allow the person to open up and talk about themselves.
5- Head down approach : There will be times when you might have someone turn around and tell you something like , " this is not how we do things here/ how do you not know this/ how have you not done this before" etc. This might affect your feelings, but understand that the crux is – feelings are temporary and you mustn't allow your performance nor mindset be affected by it. The head down approach works best for a new joinee (or just about anyone!) – you can work hard in silence and let success be your noise. This will allow you to prove your mettle before those that misjudged you. "Well done" is better than "well said" so don't obsess over giving back a smart response, let your performance talk.
Having said this, enjoy your work life, make friends, be cordial with everyone, but do not let people affect your performance nor hurt your feelings. There is always a way to deal with people and situations, if you've made a mistake – apologize and rectify it – always have a "solution oriented" approach and if you fall, learn to dust yourself and move on.